One Flag
1st:
Channel Islands
2nd: Bishop Montgomery
3rd: Carson
12th Grade Male Solo
1st:
Joseph from Oxnard
12th Grade Female Solo
1st: Shirley from San Pedro
2nd: Rachel from Oxnard
Two Flag
1st:
Channel Islands
2nd: Narbonne
3rd: Bishop Montgomery



Who else thought that awards were incredibly obnoxious?

I apologize for posting the wrong location for the awards. It was actually held in the Gym instead of the Cafe. The line-up I received stated that it was in the cafe, but I didn't find out until after the divisions that the awards were going to be held in the Gym.

If you purchased one of the programs with the awards with blanks you could fill in with the winners, you must've seen that at first, they sorta went in order (Officers A, Officers B, Pep flags (One flag), 12th grade solos) then they completely switched it up by going down the right hand column, down way below the two flag division, to the next page, then back to the right hand column. It took an awfully long time for them to finally get to two flag division.

And for the record, Bishop had 1 drop in One flag, and 3 drops in Two flag. If any other teams would like to share their information, please leave a comment.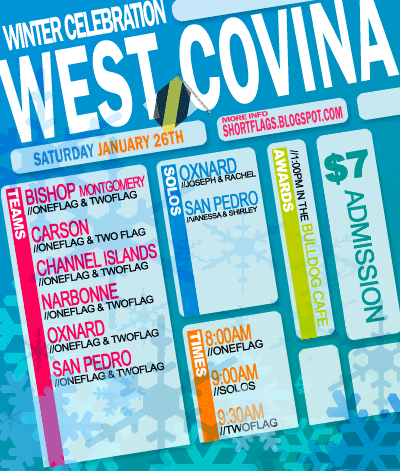 Just copy & paste the code below!




Thanks to Hamtaro for sending me the line-up! I have posted the competition line-up for this Saturday (January 26th). This competition will start early, approximately at 8am! Make sure you set your alarm clocks for this great line-up featuring your favorite teams.

1609 E Cameron Ave West Covina, CA 91791
$7 Admission (subject to change)





















One Flag
8:00am
San Pedro
Oxnard
8:30
Channel Islands
Bishop Montgomery
Carson
9:00
Narbonne
Pep Flag Solos
Oxnard #1
Oxnard #2
San Pedro #1
San Pedro #2
Two Flag
9:30
Channel Islands
Bishop Montgomery
10:00
Carson
San Pedro
Oxnard
Narbonne


1:00 Awards in the Bulldog cafe